Increasing the availability of "rescue" medicines
In 2016, 1,698 people in Michigan died from heroin and opioid-related overdoses—1,365 were caused by prescription opioids and another 324 from heroin, according to the most recent data from the state Department of Health and Human Services. By comparison, 1,021 people died in car accidents in 2016, according to the Michigan State Police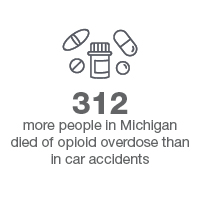 So what happens if someone takes too much medicine? Symptoms of overdose include slowed breathing, confusion, vomiting, extreme sleepiness, pinpoint pupils, and cold, clammy skin. Lack of oxygen to the brain causes these symptoms and can result in permanent brain damage and other organ failure.
A medication called Naloxone blocks the effects of opioids and can reverse an overdose.
It can help restore breathing in someone who has experienced an opioid overdose within the last 30-90 minutes. If you or a family member is at risk, you should always have this drug on hand. At Priority Health, we're proactively informing our members how they can receive Naloxone, encouraging them to have this drug on hand, and to call their doctor or pharmacist for how to use this medicine safely.
Here's how our members can receive Naloxone:
Their doctor can prescribe it.
Their local pharmacy can provide it. In Michigan, people don't need a prescription to receive Naloxone—many pharmacies can prescribe and fill prescriptions upon request.
For any opioid overdose, even if Naloxone is used, ALWAYS call 911 and seek immediate emergency care.
If you or a family member has concerns about opioid dependency, or substance overuse or misuse, call 800.673.8043.