When improving mental health is your priority, providing you with the resources to help is ours.
With compassion for our communities, Priority Health is committed to improving mental health and wellness for all Michiganders, putting compassion into action—all across the state.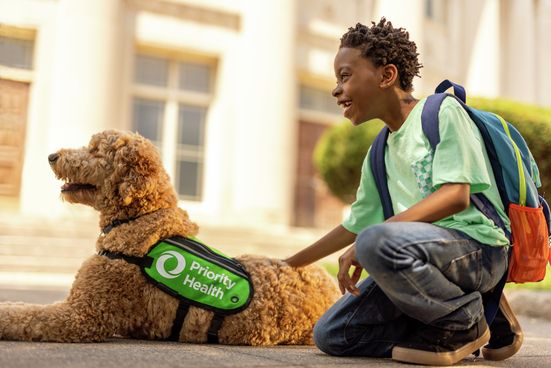 Priority PupsTM
Lending a hand, with an extra set of paws.
1 in 5 kids struggle with mental health.1
That's why Priority Health is partnering with Canines for Change to launch Priority Pups™—a signature program of Priority Health for Good—sponsoring trained facility dogs to be placed in select school districts to ease anxiety and support kids as they learn.
Free mental health support with myStrength.
We're giving Michiganders access to a leading mental wellness app called myStrength. It includes information, activities and resources to help you manage stress, reduce anxiety and improve your mood. This service is available to anyone ages 13 and up through March 31, 2024.

Priority Health knows mental health issues can affect anyone—how we think, feel, act, handle stress, relate to others, or make choices. Whether you're seeking treatment or simply searching for more information, here you'll find a range of support and information from organizations dedicated to the betterment of mental health:
Priority Pups interest form
School partners have been selected for the '23-'24 school year. If you feel students and teachers in your district would benefit from a Priority Pup, you're welcome to fill out this interest form and we'll reach out to you when we begin the school selection process again. Please talk with your school leadership before completing the form.
Since 2005, Canines for Change provides highly-trained service and facility dogs in educational settings. As one of the few organizations who provide these highly-trained dogs to area schools, their team is thrilled to partner with Priority Health to bring Priority Pups™ to school districts across Michigan.
---
More ways to improve your mental health
Priority Health remains committed to the health and well-being of the communities we serve. Read the following ThinkHealth articles to learn more about your mental health and the many ways you can promote, manage or even improve it.
Already a Priority Health member?
Take advantage of all the mental health benefits included in your plan. Whether you're seeking treatment or simply searching for more information, we have many support options and free resources that can help.
Use the myStrength platform

Your plan includes a free membership to myStrength, a leading online mental wellness tool.

myStrength can be used for guided support on topics like anxiety, stress, depression, trauma and more. You can even connect with a myStrength guide for one-on-one support.

Find a provider

Our behavioral health network includes outpatient psychologists, professional counselors, social workers, psychiatrists, behavior analysts, and so many more.

Open your Priority Health app or log in to your member account and click on My Health care > Find a doctor. Click on Advanced Search and scroll through the Specialty and Areas of Focus filters to find a list of providers who match the areas of expertise that you are seeking.

Call us directly

Navigating the behavioral health system can be tough. We have a team of dedicated behavioral health specialists who can talk to you about your health coverage, treatment options and find in-network specialists. Our team can even help you determine whether outpatient care or inpatient care will best meet your needs.

Just call the number on the back of your member ID card or 800.673.8043 (TTY 711). Crisis support is available 24 hours a day, seven days a week.
1 National Research Council and Institute of Medicine. (2009). Preventing Mental, Emotional, and Behavioral Disorders Among Young People: Progress and Possibilities.