Take control. Get support. Prevent diabetes.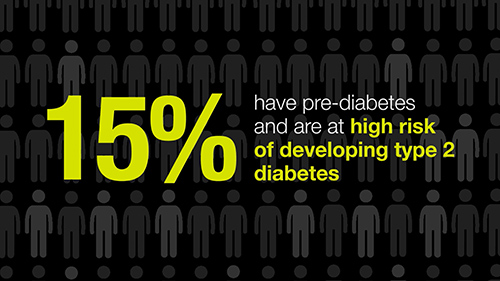 A proven way to reduce your risk of developing type 2 diabetes by 58% - 71% Centers for Disease Control and Prevention (CDC)
Led by certified lifestyle coaches
An evidence-based lifestyle change program recognized by the Centers for Disease Control and Prevention (CDC)
Free or a low copay to participate, depending on your health plan's preventive benefits*
Priority Health partners with leading health and community organizations throughout the year to provide our members access to the National Diabetes Prevention Program for a low or no cost to them.
What's the goal?
To prevent diabetes, you need to make lifestyle changes. This program can help you achieve two important goals:
Increase your physical activity to at least 150 minutes each week
Lose 5-7% of your starting weight
What's the time commitment?
Meet once a week for an hour for 16 weeks
Then meet monthly for an hour for six months
Who leads the program?
A certified lifestyle coach helps you and your group:
Share ideas
Overcome obstacles
Support each other
Stay motivated
What will we talk about?
Get ideas and motivation to:
Eat healthy and track your food intake
Overcome stress and learn coping skills
Increase your physical activity
Who should join?
Enroll in this free program if you're:
A Priority Health Commercial or Medicare member
Age 18 or older with a Body Mass Index (BMI) of 25 or over
And one or more of the following risks:
Diagnosed with prediabetes
Fasting blood sugar between 110 - 125 mg/dl
A1c between 5.7% - 6.4%
Two-hour blood sugar between 140-199 mg/dl
Had diabetes while pregnant (gestational diabetes)
Or, other risk factors for developing type 2 diabetes include:
Age 45 or older with a BMI of 27 or more
A family history of type 2 diabetes
High blood pressure
A sedentary lifestyle - physically active less than three times a week
*Free to most members of Priority Health group, MyPriority, and Medicare plans. Some employer groups may apply a small copay. Call Customer Service at the number on the back of your member ID card to find out if a copay applies under your employer's plan.