PriorityExtras
PriorityExtras is the only plan option available to Michigan employers that combines traditional benefits with holistic care and incentives to support a healthy lifestyle.
Your employees get immediate access to alternative therapies like medically necessary acupuncture and medical massage. Plus cash incentives to support a healthy lifestyle.
An ideal solution if:
You're a savings-minded small employer looking for the perfect mix of high-quality benefits.
Select the right network for your employees
HMO plans
PriorityHMOSM is our most popular health coverage option. It emphasizes health and wellness while managing medical costs, ensuring employees receive all the services they need, but none that are unnecessary. Members can go to any specialist in our network without a referral (but PCPs can coordinate medical care to help keep out-of-pocket costs low).
POS plans
PriorityPOSSM plan benefits employers who are looking for the flexibility of traditional health plan but need the cost savings of managed care. In this plan, we offer our same extensive provider network. Employees can choose an in-network primary care physician (PCP) and receive full benefits. Employees can also seek care outside the network without a referral, but must pay more for out-of-pocket expenses.
Our tiered network HMO plan is available to small employers within an 8.5-county* area and includes "tier 1" care providers who have privileges at Spectrum Health, Holland Hospital and Metro Health.
In a tiered network, members pay less out-of-pocket for care from hospitals and primary care providers that are high-quality and lower cost.
Emergency services outside of this plan's limited network are covered. Use our Find a Doctor online directory to find providers in the West MI Partners network.
Ideal solution if:

You're a price-sensitive employer with employees that are geographically located within The "tier 1" service area includes the northern half of Allegan*, Lake, Kent, Mason, Mecosta, Montcalm, Newaygo, Osceola and Ottawa counties.**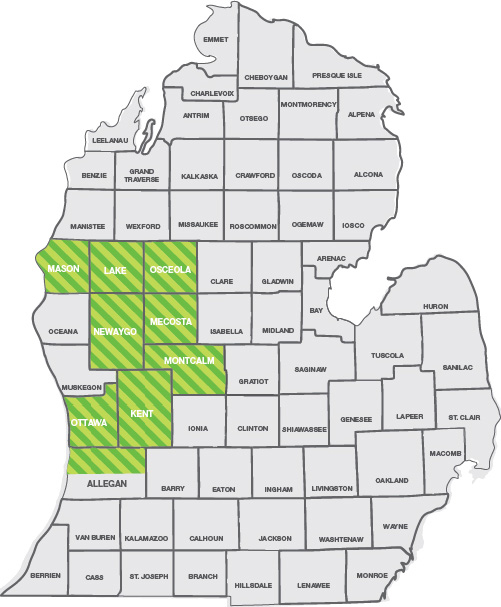 *ZIP codes in Allegan where tiered network is offered: 49423, 49453, 49406, 49419, 49464, 49426,49315, 49323, 49328, 49335, 49316, 49333, 49348, 49408, 49311, 49314

Not included in tiered network: 49344, 49070, 49078, 49080, 49010, 49026, 49055, 49056, 49090, 49450, 49416.
**The full-network PriorityExtras HMO product is only available where the tiered network PriorityExtras HMO product is not.
Want more info?
Ready for a quote?