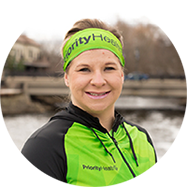 Champion spotlight: Jennifer Millard
Getting to the HEART of the problem
The number one cause of death in the United States, and worldwide, is heart disease, according to the American Heart Association. In 2010, 7.6 million cardiovascular operations took place. Heart health awareness transformed Jennifer Millard.
Her father died at 53 after his second heart attack. Her grandparents underwent multiple bypass surgeries at a young age. To say heart health was a concern of hers would be an understatement.
With elevated cholesterol at the age of 27, Jennifer Millard needed to take control of her health. Step one, focus on healthy eating. Step two, start exercising. Jennifer has never liked to exercise. But that all changed when she realized her health could impact her ability to watch her three children grow up. It's this desire that drove her to complete her first 5k in 2007. This achievement gave her the encouragement she needed to try running.
Eight years later, she is training in the Priority Health Run Camps for the Fifth Third River Bank Run 10K.
"I am definitely not a fast runner, nor a seasoned runner, but I am learning to love running more and more every day," expressed Jennifer. "I enjoy seeing my body adapt and get stronger and do things I never thought I could do before."
For the first time in 2016, she joined the Champions of Team Priority Health.
"Being a Team Priority Health Champion means embracing and loving an active and fit lifestyle," Jennifer shared. "It means trying and not giving up. I feel blessed to have this amazing opportunity to commit to something that will help me stay fit and active while also encouraging others to do the same."
Jennifer Millard offers tips to help others to improve their health:
Find a time to exercise that works for you.
I'm a night runner; you'll find me running after my kids are in bed.
Remove barriers to getting yourself out the door and active.
I like to wear fitness clothes when I am home so that it takes away one of my excuses.
Just do it!
The more you think about doing it, the more excuses you will come up with. No one ever regrets being active and working out.
Set an example.
Your actions set an example for your children and others around you. This can inspire them to be active with you.
Know your health numbers and risks.
Pay attention to your cholesterol, your weight and other health measurements. Combine this knowledge with what health conditions you may be at risk for and decide what your next step is in improving your health.
Interested in reading more articles like this? Visit ThinkHealth.
Join the club!
Exercise regularly? Ready to improve your health? We have a club for you!
Become a Team Priority Health Champion! Learn more.
Get fit with Priority Health!