Your member ID card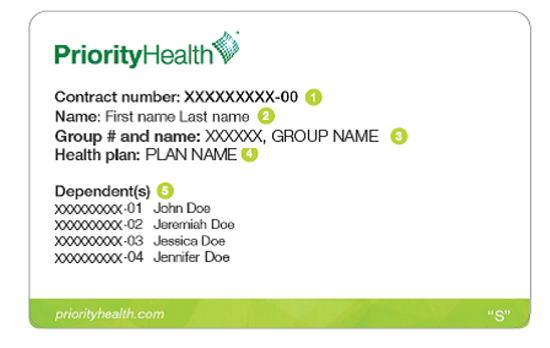 Contract number: Your member ID number is unique to you.
Name: Your first and last name is listed on your card.
Group # and name: Your group number is specific to your plan type or employer.
Health plan: The name of your plan
Dependents: Any dependents on your plan, like a child or spouse, are found here.
Member: How to call Customer Service and Behavioral Health and instructions on where to find a doctor are located on the back of your ID card.

Provider: Wherever you receive care, make sure your doctor has your health insurance information. This portion of the card is information they need to know.
Cigna logo: You'll see a Cigna logo either on the front or the back of your card. This is because you can access the Cigna PPO network if you need care when you are outside the state of Michigan. The type of care you have access to depends on your plan type. Check your plan documents for details.
1
Cigna's PPO Network refers to the health care providers (doctors, hospitals, specialists) contracted as part of the Cigna PPO for Shared Administration. Priority Health is an independent company and not an affiliate of Cigna. Any Cigna products and services are provided exclusively by or through operating subsidiaries of Cigna Corporation, including Cigna Health and Life Insurance Company. The Cigna name and other Cigna marks are owned by Cigna Intellectual Property, Inc.
Can't find your member ID card?
Order a new one.
Still have questions about your member ID card?
Log in to your member account to send us a message or call the Customer Service number on the back of your member ID card.