Our President's note: Looking forward to new seasons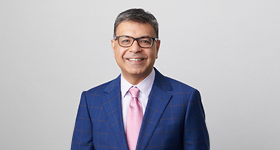 While much has changed in our world over the past year, at Priority Health we are taking stock of what has remained the same: our deep commitment to you, our valued members. Health and care have never been more important to us than they are today, and that's why we're proud to share this information-packed issue of our Medicare Health Journal.
The articles and quick tips are designed to help you take advantage of your benefits and live your healthiest life. We cover what is most important to you – your mental well-being, annual wellness visits, prescription costs and more.
I encourage you to add this journal to your reading list. Did you know reading is a form of visual exercise? It can be beneficial for brain health and overall wellness. I love reading as a way to expand my perspectives and learn from others. Having a variety of reading materials on my nightstand helps me start or end my day on a positive note, as does relaxing outdoors.
Happy reading and thank you for entrusting Priority Health to be your health plan—we are committed to serving you and appreciate you choosing us.
With gratitude,
Praveen Thadani
President, Priority Health
Learn about fraud, waste and abuse, what it means to you and Priority Health and how to report it. Learn more