The smart choice for Medicare
Make the smart choice and choose a Medicare plan that gives you more. Original Medicare only covers 80% of your medical costs and doesn't include prescription drug coverage, but with a Priority Health Medicare plan you can rest assured you're getting everything covered in Original Medicare—plus more. Get full medical coverage plus prescription coverage and extras like dental, vision and hearing, an over-the-counter benefit allowance for non-prescription health items on many plans, a free gym membership and more.
No matter what your priorities are when it comes to your health, we have a plan that works for you—priced to meet your needs and your budget.
Our Medicare Advantage plans are the highest rated in the state.1 And 97% of our Medicare members stay with us, compared to the national average of 88%.2

You're covered with our network that includes 97% of primary care doctors in Michigan.* And our plans travel with you wherever you go with out-of-state care at in-network costs, plus unlimited worldwide emergency and urgent coverage.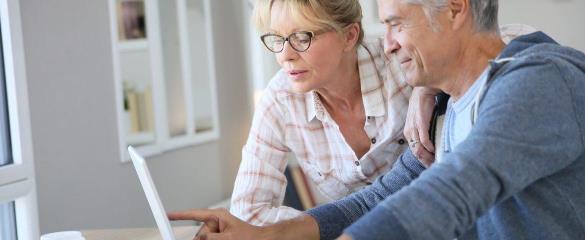 Original Medicare vs. Medicare Advantage: Apples and Oranges?
Comparing your Medicare options doesn't have to be a confusing ordeal. Know what's covered and what isn't under your plan.
Call our Medicare experts toll-free to learn about our plans: 877.777.4280 (TTY 711), 8 a.m. to 8 p.m. 7 days a week
1Priority Health Medicare Advantage HMO-POS plans are the highest-rated HMO-POS plans in Michigan, with a rating of 4.5 out of 5 in NCQA's Private Health Insurance Plan Ratings 2019–2020.
2According to the 2016 Medicare Advantage Health and Drug Plan Disenrollment Reasons Survey Results issued by the Centers for Medicare and Medicaid Services (CMS), August 2017. Results for HMO-POS plans.
*According to the Michigan Department of Insurance and Financial Services 2019 Individual and Small Group network filing comparisons of primary care doctors who participate with insurance, excluding out-of-state and Upper Peninsula providers. Network varies by plan.

**$20 copay applies for MSPTA, bargaining unit T01.