MyPriority Gold Copay+ - Bronson Healthcare Partners
Our MyPriority® Gold Copay+ plan is designed for individuals and families who anticipate needing health care services throughout the year. With no deductible, you share the costs with the health plan.
Highlights of what members get:
On-demand mental health support: myStrength is a free mental health and wellness online tool that helps you live your best life.
Chronic condition management: Access to a variety of medications, supplies and services to help keep your chronic conditions under control—covered in full or with a low cost share, before deductible.
Diabetes management: Our plans provide coverage for diabetes management services, supplies and treatments for no cost, before deductible when furnished by a participating durable medical equipment (DME) provider. Diabetes prescriptions and testing procedures are covered before deductible, with cost share.
Global emergency assistance: If you or your dependents become ill or injured while traveling more than 100 miles from home, our partner Assist America® can help you get care and even arrange your safe travel home.
Hearing exams and hearing aids: Discounts for you and your extended family with TruHearing®
Bronson Healthcare Partners
A narrow network offered to individuals who live in Kalamazoo and Van Buren counties and a portion of Calhoun County.*
Members who choose a Bronson Healthcare Partners plan are required to receive care in the Bronson Healthcare system of doctors and hospitals and their affiliated clinics, outpatient facilities, labs, etc.
This network includes:
Hospitals: Bronson Methodist Hospital, Bronson Battle Creek Hospital, Bronson Lakeview Hospital, Bronson South Haven Hospital
Physicians (primary care and specialist) network:
Bronson Healthcare physicians
Bronson Hospital-employed physicians
Physicians who denote Bronson Hospital (all campuses) as their primary affiliation
All in-network pharmacies
Details:
A narrow network allows members to enjoy a lower monthly premium while getting access to quality care
No referral needed to see an in-network specialist
Members who enroll in this plan will see the Bronson Healthcare Partners network on their ID cards
Care received outside of the Bronson Healthcare Partners network will not be covered, and members will be required to cover the full cost for out-of-network care
*ZIP codes in Calhoun County where the Bronson Healthcare Partners narrow network is offered: 49011, 49014, 49015, 49017, 49021, 49029, 49033, 49037, 49051, 49052, 49068, 49076, 49092, 49094
Ready to enroll?
Still have questions?
Talk to a Priority Health enrollment specialist: 833.964.1312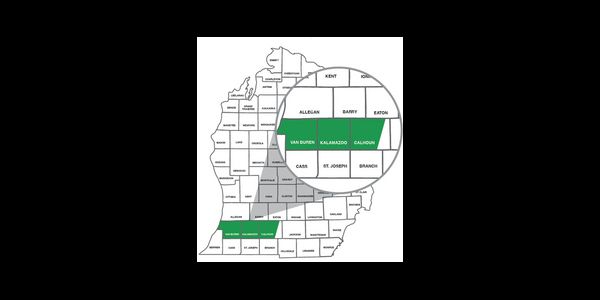 ZIP codes in Calhoun County where the Bronson Healthcare Partners narrow network is offered:
49011, 49014, 49015, 49017, 49021, 49029, 49033, 49037, 49051, 49052, 49068, 49076, 49092, 49094