MyPriority HMO Bronze 8550 - Bronson Healthcare Partners
MyPriority® HMO Bronze 8550 (full or narrow network) plans are an affordable choice if you're generally healthy and savings-minded. This plan gives you the peace of mind knowing you're protected if something catastrophic happens. This plan is a smart option for individuals and families that don't anticipate needing major health care services and want the reassurance of being covered for general care.
Highlights of what you get:
Virtual care: 24/7 non-emergency care by mobile device or online (i.e. Spectrum Health App)
Prescription drugs: Tier 1a and Tier 1b drugs before deductible
Chronic condition management: Services, supplies, and treatments for some of the most common chronic conditions, with cost-share, before deductible
Primary doctor visits: $30 primary care doctor visits before deductible
Urgent care: $75 urgent care visits before deductible
Cost Estimator: Access to our tool to see prices for hundreds of services and procedures
Active&Fit Direct™: Discounted prices for gym memberships and more
Bronson Healthcare Partners
A narrow network offered to individuals who live in Kalamazoo and Van Buren counties and a portion of Calhoun County.*
Members who choose a Bronson Healthcare Partners plan are required to receive care in the Bronson Healthcare system of doctors and hospitals and their affiliated clinics, outpatient facilities, labs, etc.
This network includes:
Hospitals: Bronson Methodist Hospital, Bronson Battle Creek Hospital, Bronson Lakeview Hospital, Bronson South Haven Hospital
Physicians (primary care and specialist) network:
Bronson Healthcare physicians
Bronson Hospital-employed physicians
Physicians who denote Bronson Hospital (all campuses) as their primary affiliation
All in-network pharmacies
Details:
A narrow network allows members to enjoy a lower monthly premium while getting access to quality care
No referral needed to see an in-network specialist
Members who enroll in this plan will see the Bronson Healthcare Partners network on their ID cards
Care received outside of the Bronson Healthcare Partners network will not be covered, and members will be required to cover the full cost for out-of-network care
*ZIP codes in Calhoun County where the Bronson Healthcare Partners narrow network is offered: 49011, 49014, 49015, 49017, 49021, 49029, 49033, 49037, 49051, 49052, 49068, 49076, 49092, 49094
Reasons to love our HMO
No referral to see a specialist

Cost Estimator - know the cost of care before you receive it


Virtual care - see a doctor 24/7 on a mobile device or online

24/7 global emergency services with Assist America®

Chronic condition management – Services, supplies
and treatments for some of the most common chronic
conditions, with cost-share, before deductible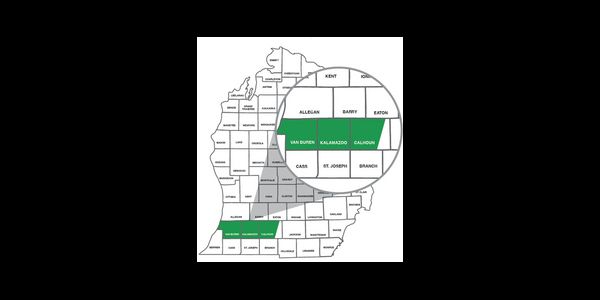 ZIP codes in Calhoun County where the Bronson Healthcare Partners narrow network is offered:
49011, 49014, 49015, 49017, 49021, 49029, 49033, 49037, 49051, 49052, 49068, 49076, 49092, 49094