West MI Partners
Our tiered network HMO plan is available to small employers within a 13-county area and includes "tier 1" care providers who have privileges at:
Spectrum Health1
Holland Hospital
Metro Health
Bronson Healthcare
What are the benefits of a tiered network?
A tiered network can help employers save on premiums and help employees save on deductibles, out-of-pocket limits and cost sharing—all by utilizing the selected Tier 1 provider network.
How does it work?
Providers are separated into two tiers: Tier 1 and Tier 2. We've partnered with our Tier 1 providers to lower member costs, so if employees choose care through a Tier 1 provider, they'll benefit from lower coinsurance, copays and deductibles.

In Tier 2, employees will have access to our entire PriorityHMO network. However, if they choose to receive care outside of the Tier 1 network of hospitals and providers, they will have a higher cost share for care.

Emergency services outside of this plan's limited network are covered. Use our Find a Doctor online directory to find providers in the West MI Partners network.

An ideal solution if: you're a price-sensitive employer with employees that are geographically located within The "tier 1" service area includes all of Allegan (except ZIP Code 49010), Barry, Kalamazoo, Kent, Lake, Mason, Mecosta, Montcalm, Newaygo, Osceola, Ottawa, majority of Calhoun1, and Van Buren counties.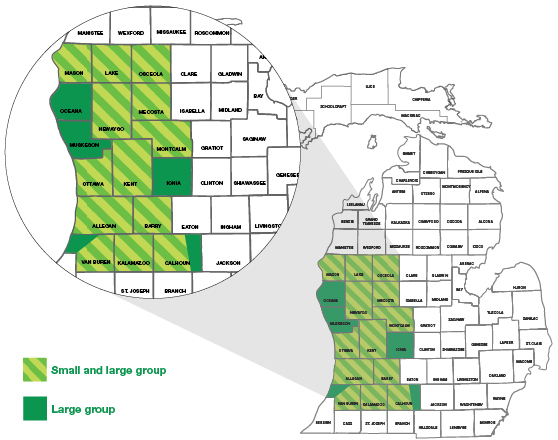 1 Excludes Spectrum Health Lakeland Hospital
2 Calhoun County ZIP codes included in Tier 1: 49014, 49015, 49017, 49021, 49029, 49033, 49037, 49051, 49052, 49068, 49076, 49092, 49094.
2 Calhoun County ZIP codes NOT included in Tier 1: 49034, 49224, 49237, 49045, 49252, 49284