Large group HSA insurance
Lower your costs & give employees more control over their health care spending
PriorityHSASM is a high-deductible health plan that allows your employees to use a health savings account (HSA) to help pay for medical expenses. The money in the savings account can be used at any time for eligible expenses not paid by the plan. Anyone can contribute to it, including you as an employer. If the money in the savings account isn't used, it can be saved year after year for future expenses. It also can be the beginning of future cost savings for you, all while providing comprehensive benefits for your employees and their families.
Employees pay their medical and prescription drug costs (except for preventive care services) until they meet the plan's deductible. Because their health care funding is coming from their own health savings account, they pay closer attention to their spending and overall wellness.
The immediate result? Lower monthly premiums for your company.
The long-term result? Lower health care costs and improved health for your employees.
The benefits of PriorityHSA:
FREE banking partner - Our partner HealthEquity®, the leader in HSA banking, helps your employees set up and manage their HSA account. We're one of the few carriers in Michigan offering this service at no cost to employers or members. (Learn about HealthEquity)
Preventive care is 100% covered (even before the deductible is met) when employees use doctors and other health care providers in the Priority Health network.
PriorityHSA can be combined with the network of your choice - PriorityHMOSM, PriorityPPOSM or PriorityPOSSM. (learn about our core plans)
Employees can make fixed HSA contributions to ensure they have money set aside to pay for qualified medical expenses.
Triple tax advantage for employees: All contributions, account earnings and money withdrawn to pay for eligible medical expenses are tax-free.
Emergencies and urgent care are covered wherever employees travel.
Can be used with PriorityFSASM Limited, our limited flexible spending arrangement
Learn about how PriorityHSA works
Our PriorityHSA high-deductible health plan can be paired with an HSA or stand alone.
High-deductible health plan + health savings account
Your PriorityHSA high-deductible health plan works best when paired with an HSA. Learn about tax advantages, contribution limits & rules, how your health plan works and more. (7:20)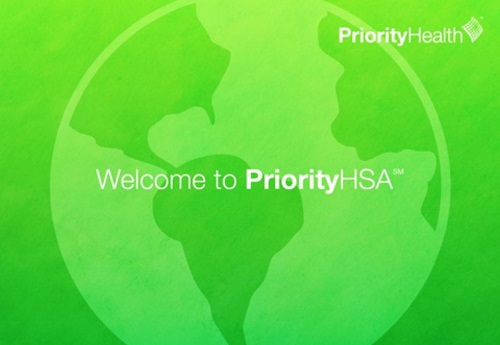 Want more info on our plans?
We wrote the book on HSAs