Changes to Medigap for the new year
9/28/2020
There are a few new items to note for Medigap as AEP approaches, including an exciting addition to all Medigap plans, information on the Medigap subsidy and a change to the Medigap application.
New! Assist America
We are excited to announce that effective Jan. 1, 2020, all Priority Health Medigap members will have access to Assist America for global emergency trable assistance when more than 100 miles from home or in a foreign country, included at no extra cost.
The Assist America reference number for Priority Health Medicare members is 01-AA-PHP-1213M.
Note: We are not adding Assist America to the ID cards.
Medigap application update
We have added a question to Section 4 of the Medigap application. The Medigap paper application for pre-enrollment packets has been updated to reflect the change, but we have also added logic on the online Medigap application. If the answer to question 5 (Are you currently enrolled in a Medigap, MA plan or other health insurance?) is 'yes', then it populates question 6, which is what you see below. The change to the application will go live prior to Oct. 1.
The new question will capture if a member has lost or will be losing coverage under a group policy after becoming eligible for Medicare in Section 4 of the application. This change will help mitigate disapproval into the plan when unwarranted due to loss of coverage upon Medicare eligibility.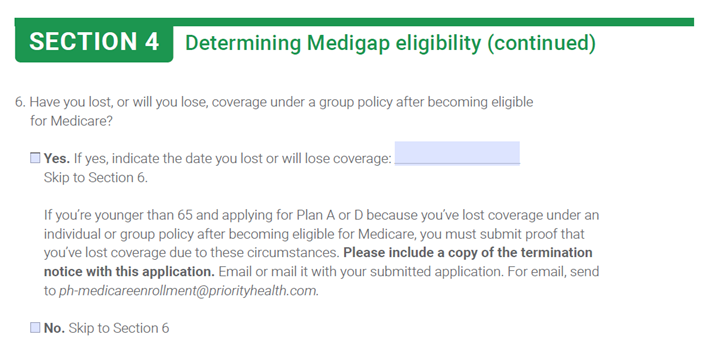 2021 Medigap rates
Rate changes are effective Jan. 1, 2021 for new Medigap members or upon renewal.
Plan A, C and N are increasing an average of 3%
Plan F is increasing an average of 2%
Plan D and G rates are decreasing an average of 3%
Medigap subsidy
The Michigan Health Endowment Fund will not accept new applications for the Michigan Subsidy Program (or missing proof documents) after Jan. 15, 2021. This will help make sure your clients receive their subsidy until the program ends.
Michigan Medigap Subsidy amounts:
| | | |
| --- | --- | --- |
| Age | Subsidy amount through 3/31/21 | Subsidy amount after 4/1/21 |
| Under 65 with a disability | $110 | $75 |
| 65-74 | $35 | $25 |
| 75+ | $56 | $45 |
Note: Letters from the Michigan Health Endowment Fund will be sent to current subsidy members the first week in October alerting them of changes.
2021 Medigap commissions
There will be no change to Medigap commissions in 2021. Please see the Medigap commissions page of the Agent Center for more information.
2021 Medigap discounts
There will be no changes to any Medigap discounts, including hearing, vision and 12% household discounts. See the Medigap discounts page for more information on these savings.