Priority Health marketing exec named a top leader by Crain's Detroit Business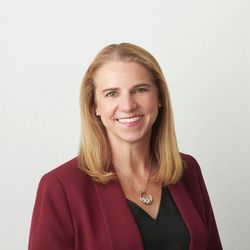 (GRAND RAPIDS, Mich. — April 24, 2023) Erin Sullivan, vice president of marketing and customer experience at Priority Health, a nationally recognized nonprofit health plan serving more than 1.3 million members, has been recognized as a "Notable Leader in Marketing" by Crain's Detroit Business.
The notable leaders program recognizes best-in-class executives across a range of industries making a difference on their jobs and in their communities.
Sullivan is responsible for the development and delivery of the Priority Health brand, communications, community giving and member-engagement strategies, and a customer-centered experience enhanced through predictive analytics and an omni-channel, impact-focused approach. Her areas of expertise include brand management and team leadership; she also plays an integral role in integration efforts at Corewell Health.
"Erin brings an invaluable strategic lens to brand development and management at Priority Health," said Jeremy Harper, chief marketing and consumer experience officer at Corewell Health. "This skillset is crucial to providing the best services possible to members and communities across Michigan, and in the integration efforts at Corewell Health."
Since joining Priority Health in 2022, Sullivan has overseen the successful launch of a new brand campaign, logo customer experience strategy, and team transformation initiative focused on maintaining a positive and productive team culture. Sullivan received a master's degree in business administration in brand and general management from Vanderbilt University, and a bachelor's degree in political science from the University of Michigan, Ann Arbor. She is honored to serve on the Total Health Care Foundation Board.
About Priority Health
With over 30 years in business, Priority Health is the second largest health plan in Michigan, offering an extensive portfolio of health benefits options for employer groups and individuals, including Medicare and Medicaid plans. Serving more than one million members each year and offering a broad network of primary care physicians in Michigan, Priority Health continues to be recognized as a leader for quality, customer service, transparency and product innovation. Learn more about affordable, quality health coverage options from Priority Health.
For the latest news from Priority Health, visit our newsroom.
About Corewell Health™
People are at the heart of everything we do, and the inspiration for our legacy of outstanding outcomes, innovation, strong community partnerships, philanthropy and transparency. Corewell Health is a not-for-profit health system that provides health care and coverage with an exceptional team of 60,000+ dedicated people—including more than 11,500 physicians and advanced practice providers and more than 15,000 nurses providing care and services in 22 hospitals, 300+ outpatient locations and several post-acute facilities—and Priority Health, a provider-sponsored health plan serving more than 1.2 million members. Through experience and collaboration, we are reimagining a better, more equitable model of health and wellness. For more information, visit corewellhealth.org.