Retirement is all about planning
Let's navigate Medicare and retirement together.
We're dedicated to providing access to quality care for members of the Michigan Public School Employees' Retirement System. We're helping retirees navigate their care through new tools and resources that are convenient and useful, not to mention our strong network of providers.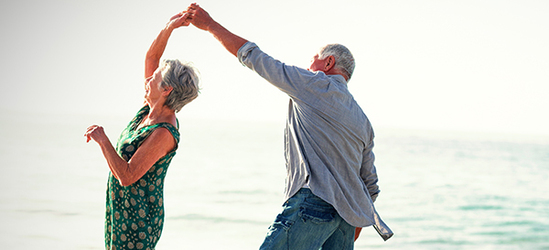 Out-of-area-travel pass for coverage outside of the lower peninsula of Michigan. With the out-of-area travel benefit, you'll pay in-network costs when you visit any Medicare-participating provider in the U.S. outside of the lower peninsula of Michigan Michigan. That means, when you travel out of the lower peninsula of Michigan, your coverage travels with you. We partner with MultiPlan® so finding an out-of-state provider is even easier. Plus, your plan will include Assist America® for global emergency travel assistance when you're more than 100 miles from home or in a foreign country.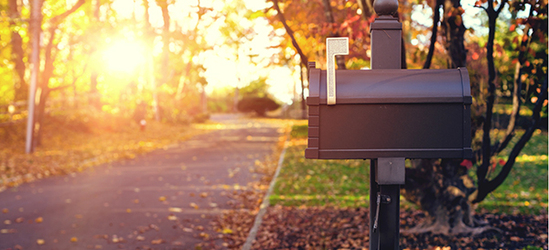 Save with mail order prescriptions and preferred pharmacies. Sign up to get your medications mailed to you, and not only can you get a 90-day supply of your drugs for less than your normal copay - even paying $0 for tier 1 drugs - your prescriptions will be delivered right to your door. You can also save by filling your prescriptions at a preferred pharmacy. Your costs will be less for your covered drugs when you use a pharmacy in our preferred network.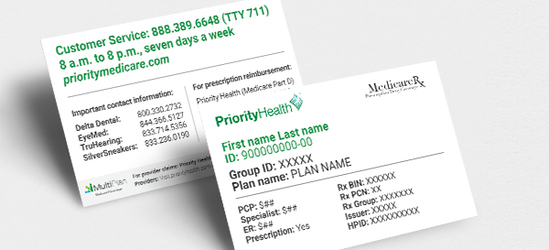 Medical and prescription coverage with one card. With a Priority Health Medicare Advantage Plan, you just need one card for both your medical and prescription coverage.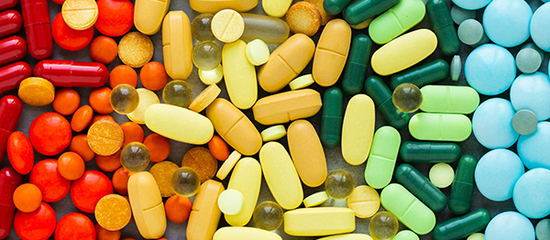 No surprises with prescription drug copays. Most of our prescription drugs have a copay, instead of coinsurance, so you'll know in advance what you're going to pay for your medication.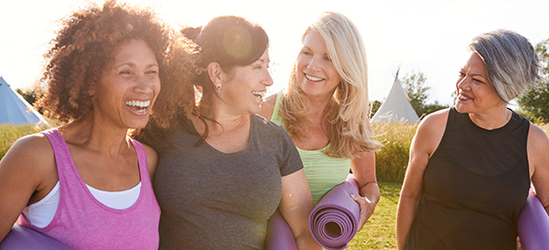 Get or stay fit. Stay active with a free SilverSneakers® fitness membership when you become a Priority Health Medicare member. You'll have access to thousands of fitness locations nationwide. Take classes at a new gym every day, or find adjustable workout programs on the SilverSneakers GOTM app.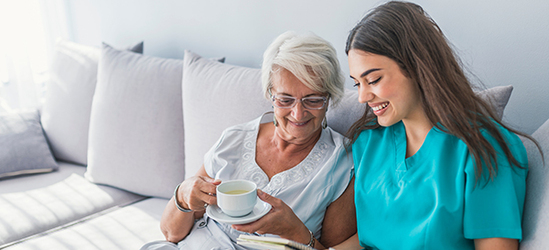 Bonus health assessment at home. Take advantage of a bonus check-up in the comfort of your own home every year with a licensed health care provider, through our partner, Signify Health. Any findings from your visit will be shared with your primary care provider to help you get the best overall care.
Choose the plan that puts you first:
Preventive care at no cost. Priority Health covers preventive health care at no cost. Get your annual wellness exam, flu shot, cancer screenings and more.

No referrals. Unlike other plans, you don't need a referral from your primary care provider (PCP) to see an in-network specialist.

Worldwide emergency and urgent care coverage. In addition to the out-of-state travel benefit in the U.S., you're also covered worldwide for emergency and urgent care services.

Virtual doctor visits covered 100%. Virtual care is a fast, convenient and affordable way to see a board-certified doctor 24/7. You can see a health care professional over the phone, through email or using online video.

Know your costs with Cost Estimator. See costs for some procedures, based on your real-time deductible balance, coinsurance or copay and out-of-pocket amounts. You can also use Cost Estimator to see the costs of your prescription drugs.

Dedicated customer service with a local representative. When you call us with a question you'll be talking to a fellow Michigander, someone who is an expert in your plan. Better yet, you can reach us seven days a week and even over lunch.
Priority Health has HMO-POS and PPO plans with a Medicare contract. Enrollment in Priority Health Medicare depends on contract renewal. This information is not a complete description of benefits. Call 844.403.0847 (TTY users call 711) for more information.
H2320_NCMS400040062316Q_C 09132022
Ready to enroll?
Learn how & what to expect.