Looking for a Medicare plan that travels with you, near or far?
Priority Health Travel Pass has you covered on the go, so you can relax and enjoy your next adventure.
When you visit any Medicare-participating provider in the U.S. outside of Michigan, you'll pay in-network costs. You also have MultiPlan Medicare Advantage network access to help you find providers when seeking care outside of Michigan. Whether you're a snowbird or regularly go to another state for your care, go with confidence knowing you're covered—even for routine visits.
Plus, all Medicare plans also include Assist America® for global emergency travel assistance when you're more than 100 miles from home or in a foreign country. Assist America can help to:
Coordinate your care during a medical travel emergency
Provide pre-trip assistance to help you prepare for your travel
Find a doctor or pharmacy near you while you're traveling
Fill your prescriptions at your destination
Locate lost luggage
Our plans have built-in unlimited worldwide emergency and urgent care coverage, too, so you can travel close to home, or around the world, worry free.
You don't have to do anything to start using this benefit.
Simply show your member ID card with your travel pass card to providers and let them know that your travel pass has the information they need to confirm there is out-of-state coverage outside Michigan, and bill Priority Health.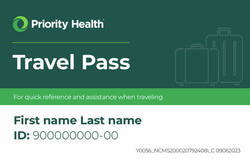 For help finding a Medicare-participating provider or MultiPlan provider, call customer service.