Managing your health insurance is easier than ever with Priority Health. Sign up and download our app to view your personalized information anytime, anywhere—all in one place.
Your member account gives access to:
Track spending balances to keep your budget in check
Search claims and see a detailed breakdown of care and prescription costs
Set up a video visit and get virtual care when and where you need it, including prescriptions
Find in-network doctors, hospitals, labs and more
Get healthy and stay healthy with personalized programs and activities
How to sign up for your member account
You need to wait until your coverage begins to register a username and password that will give you access to your account. Then, pull out your member ID card and your Medicare card.
If you already have a username and password from when you had a different Priority Health plan, you don't need to sign up again. Your username and password will work to log you in. You'll be able to see both your past plan and your current Medicare plan information, too.
Do you have a MyHealth account? Your Priority Health member account gives you access to everything regarding your health insurance plan, while MyHealth offers access to your Spectrum Health providers, appointments and other patient information.
Sign up for your member account.
Once you Sign up
Now that you have an account, it is time to log in to your member account.
Click the Login link at the top of any priorityhealth.com page.
Enter your username and password in the fields (boxes).
Click the Login button. Your personal account information will appear.
ALWAYS LOG OUT when you are finished visiting your personal online account to protect your personal health information. How? Simply click Logout in the upper right corner.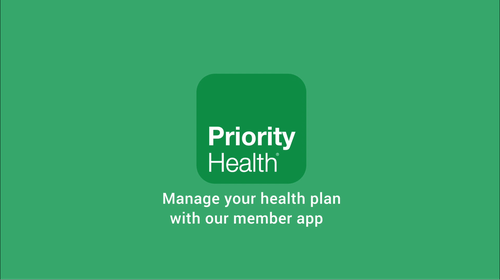 Questions?
Call Customer Service (toll‑free)
888.389.6648 (TTY 711)
8 a.m. to 8 p.m., seven days a week
Your relationship with Priority Health