Medicare Advantage coverage that travels? Now that's smart.
With national coverage, our Medicare Advantage members can have peace of mind knowing they'll have access to care wherever life takes them.
How does out-of-state coverage work?
Most Priority Health Medicare Advantage plans include coverage outside of Michigan. When a member with one of these plans sees a provider outside of Michigan who participates with Original Medicare or is included in the Multiplan Medicare Advantage network, we'll cover those services at the in-network benefit level.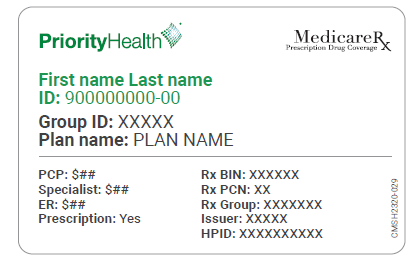 And, the back of the card will include a MultiPlan logo. They are not limited to providers in the MultiPlan Medicare provider network.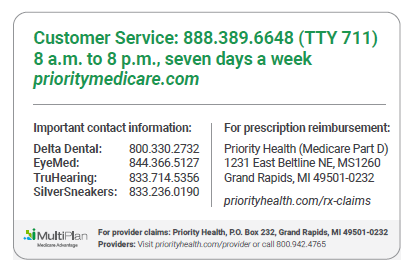 Members will also receive a Travel Pass card that they may show you. We value the care you provide our members while they're out-of-state and want to make sure working with us is easy and convenient. Follow the directions on the Travel Pass card to learn more about the member's ID card and how to submit claims.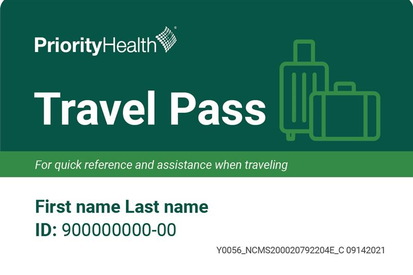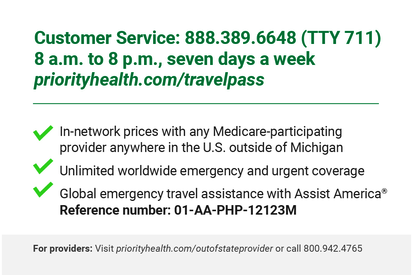 Rest easy knowing your claims will be paid.
As a Medicare-participating provider, you can have peace of mind knowing you'll be reimbursed for the services you provide our Medicare Advantage members while they're away from home.
We reimburse providers at the National Medicare Physician Fee Schedule allowed rate, using the associated relative value unit (RVU) file provided by the Centers for Medicare and Medicaid Services (CMS).
We process claims quickly. In 2020, our average processing time for claims was within 7 days of receipt.
We send payments in the way that's most convenient for you. We process and mail hard-copy checks weekly. We also offer electronic funds transfer (EFT) for even quicker payment. Review our EFT requirements and get set up.
Register for a prism account
When you create a prism account with us, you'll get access to our Member Inquiry tool. This tool is a quick, self-service option that lets providers check patient eligibility and see important plan information without having to call our provider helpline. You don't need to be a contracted Priority Health provider to create an account.
With an account, you'll be able to:
Check eligibility and contract history
See out-of-pocket limits, deductible balance(s), copays and coinsurance
Check the status of claims quickly
More Medicare information for providers outside of Michigan