Enjoy a lower monthly premium while getting access to quality care.
If you live in certain Michigan counties, you can enroll in a MyPriority narrow network plan. These plans require you to receive care in a specific network of doctors, hospitals, labs and outpatient facilities, in exchange for a lower monthly premium. If you choose to receive care outside of your specific narrow network you will be responsible for all costs.
With a MyPriority narrow network plan:
You don't need a referral to see an in-network specialist
Provider-specific names will make it easier to understand which facilities are covered
There are no additional limits or restrictions on care or services
All in-network pharmacies are included
Plus, you still get all the extra benefits of a traditional plan, like free, on-demand mental health support, $0 or low-cost chronic condition and diabetes management, discounted hearing exams and hearing aids, and more.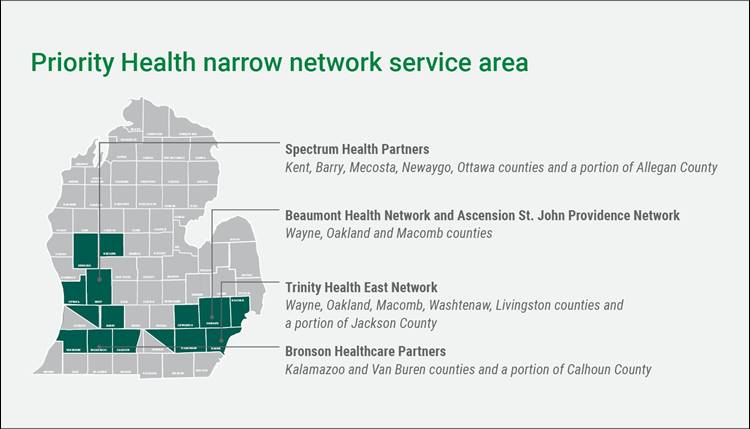 Spectrum Health Partners | Kent, Barry, Mecosta, Newaygo, Ottawa counties and a portion of Allegan County (ZIP codes in Allegan County: 49070, 49311, 49314, 49323, 49328, 49335, 49344, 49348, 49406, 49408, 49416, 49419, 49423, 49453)
Beaumont Health Network | Wayne, Oakland and Macomb counties
Ascension St. John Providence Network | Wayne, Oakland and Macomb counties
Trinity Health East Network | Wayne, Oakland, Macomb, Washtenaw, Livingston counties and a portion of Jackson County (ZIP codes in Jackson County: 49201, 49202, 49203, 49204, 49230, 49240, 49254, 49259, 49261, 49263, 49272, 49277, 49285)
Bronson Healthcare Partners | Kalamazoo and Van Buren counties and a portion of Calhoun County (ZIP codes in Calhoun County: 49011, 49014, 49015, 49017, 49021, 49029, 49033, 49037, 49051, 49052, 49068, 49076, 49092, 49094)