Enjoy a lower monthly premium while getting access to quality care.
If you live in certain Michigan counties, you can enroll in a MyPriority narrow network plan. These plans require you to receive care in a specific network of doctors, hospitals, labs and outpatient facilities, in exchange for a lower monthly premium. If you choose to receive care outside of your specific narrow network you will be responsible for all costs.
With a MyPriority narrow network plan:
You don't need a referral to see an in-network specialist
Provider-specific names will make it easier to understand which facilities are covered
There are no additional limits or restrictions on care or services
All in-network pharmacies are included
Plus, you still get all the extra benefits of a traditional plan, like free, on-demand mental health support, $0 or low-cost chronic condition and diabetes management, discounted hearing exams and hearing aids, and more.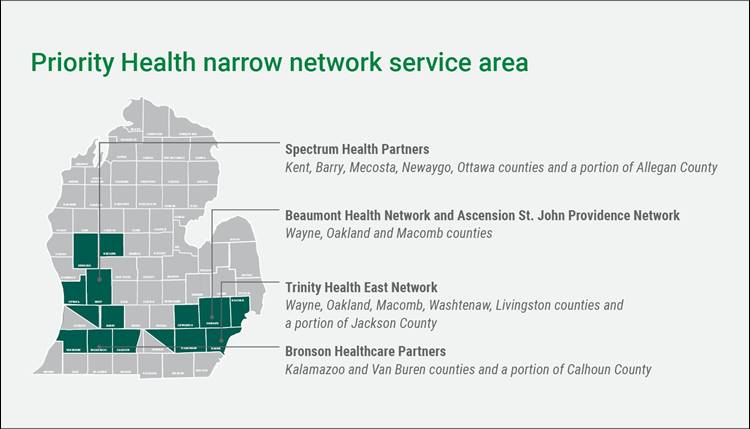 Spectrum Health Partners | Kent, Barry, Mecosta, Newaygo, Ottawa counties and a portion of Allegan County (ZIP codes in Allegan County: 49070, 49311, 49314, 49323, 49328, 49335, 49344, 49348, 49406, 49408, 49416, 49419, 49423, 49453)
Beaumont Health Network | Wayne, Oakland and Macomb counties
Ascension St. John Providence Network | Wayne, Oakland and Macomb counties
Trinity Health East Network | Wayne, Oakland, Macomb, Washtenaw, Livingston counties and a portion of Jackson County (ZIP codes in Jackson County: 49201, 49202, 49203, 49204, 49230, 49240, 49254, 49259, 49261, 49263, 49272, 49277, 49285)
Bronson Healthcare Partners | Kalamazoo and Van Buren counties and a portion of Calhoun County (ZIP codes in Calhoun County: 49011, 49014, 49015, 49017, 49021, 49029, 49033, 49037, 49051, 49052, 49068, 49076, 49092, 49094)
Your health is our top priority
Earning 4 out of 5 stars, Priority Health gives you more for your money and does more to improve your health.
Marketplace survey* results show:
How well doctors coordinate with our members to provide the best care
How our network gives members health care that achieves the best results
How our members rate their doctors and their care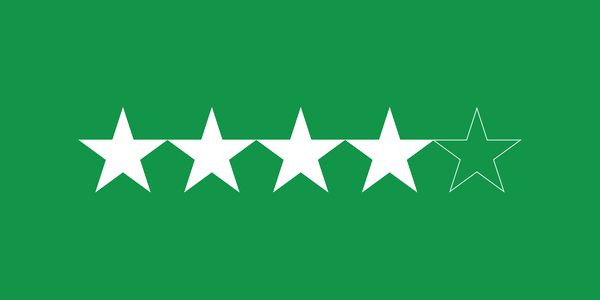 *CMS scores qualified health plans (QHPs) offered through the Exchanges using the Quality Rating System (QRS) based on third-party validated clinical measure data and QHP Enrollee Survey responses. CMS calculates ratings yearly on a 5 star scale. Ratings may change from year to year.