Frequently asked questions for employers
Last updated 4/3 at 5pm
Information provided by Priority Health is for educational purposes only and is not intended as legal advice. The information provided is based on regulations and legislation, which are updated frequently. Please consult your benefits attorney with any legal questions.
COVID-19 testing, virtual care and other coverage
Q (4/2): Will Priority Health members in Michigan be able to receive care from providers that come from other states to assist our hospitals and health systems during this crisis?
A: Governor Whitmer has issued an Executive Order that allows any provider licensed in any state to help with the COVID-19 crisis in Michigan without needing to be licensed by the State of Michigan. The Executive Order states, in part: "Any and all provisions in Article 15 of the Public Health Code are temporarily suspended, in whole or part, to the extent necessary to allow health care professionals licensed and in good standing in any state or territory in the United States to practice in Michigan without criminal, civil, or administrative penalty related to lack of licensure. A license that has been suspended or revoked is not considered a license in good standing, and a licensee with pending disciplinary action is not considered to have a license in good standing. Any license that is subject to a limitation in another state is subject to the same limitation in this state."
Q (3/31): Are there any differences in coverage for Priority Health members that reside outside of Michigan?
A: No, Priority Health coverage decisions will apply to our members regardless of where they live.
Q (3/31): Do coverage decisions announced by Cigna apply to Priority Health members?
A: No, while Priority Health utilizes Cigna's national network for our members that reside outside of Michigan, Priority Health makes all benefit decisions impacting our members.

Q (3/23): What if a Priority Health member is asked to pay out-of-pocket for a service that Priority Health is covering in full related to COVID-19?
A: Members can follow the same process as they do today for claim reimbursement, utilizing our existing member reimbursement form and process. Claims are based on codes submitted, so no new process or indication will be needed.
Q (3/23): Does Priority Health have COVID-19 test kits to send to members?
A: No, Priority Health does not have access to COVID-19 test kits as we are not a health care provider.
Q: What services are covered in full, related to testing for COVID-19 and for which members?
A: For all members, including Commercial Group, Individual, Medicare, and Medicaid membership, as well as HSA plan members, as part of the Families First Coronavirus Response Act, the cost of COVID-19 diagnostic testing and the administration of the test such as office visits, blood draws, or specimen handling are covered 100%, with no member cost sharing applied. Applies to in-network and out-of-network providers. NOTE: Self-funded groups may not opt-out.
Q: How is Priority Health covering the COVID-19 test for HSA-qualified High Deductible Health Plan (HDHP) and self-funded members?
A: HDHP members are covered in full, before deductible, as are self-funded group members and grandfathered.
plan members. Self-funded groups may not opt-out. All members, as part of the Families First Coronavirus Response Act are 100% covered with no member cost share for COVID-19 diagnostic test and the administration of the test.
Q: How much is the COVID-19 test?
A: The cost of the test today is $52 in the state of Michigan. For members who access the Cigna Payer Solutions network, the cost is around $100, as labs vary nationally. As the test technology evolves, the cost may vary. If changes occur, we'll keep you updated.
Q: How is Priority Health covering virtual visits during this time?
A: For virtual care related to COVID-19 diagnostic tests and the administration of the test: all members are covered 100%. Self-funded groups may not opt-out.
For all other virtual care: Priority Health covers the cost of virtual care for all members and starting immediately will temporarily waive costs before deductible for HSA plan members, through Apr. 30, 2020. We will be opting all groups into waiving member costs for virtual care (copays, deductible, coinsurance).
Q: How do Priority Health members know what is covered?
A: There is a notification on the homepage of priorityhealth.com that links to constantly updated coverage information for Priority Health members. The website is the best place for members to find the most up-to-date information on coverage. Members can also call the customer service number on the back of their ID card.
Pharmacy FAQs:
Q (3/31): How is Priority Health responding to Executive Order 2020-25, allowing pharmacies to dispense emergency refills of non-controlled maintenance medications up to a 60 day supply?

A: Priority Health is already allowing early refills for our members that have 30 day prescriptions, and encouraging members to switch to 90 day prescriptions where possible. Early refills on 30 day prescriptions are not available on controlled substances, or specialty medications filled through a specialty pharmacy. Applicable member copays and cost sharing apply to all medication fills. This executive order also allows pharmacists the ability to substitute therapeutically equivalent medications without prescriber approval if there are critical shortages.

Q (3/23): Can Priority Health members get 30-day prescription fills delivered to their home?
A: CVS, Walgreens and Meijer offer free in-home delivery of prescriptions for all Priority Health plans. Members can get more information on the member FAQs page. If members already have an automatic 90-day refill set up, then there is no need to change a thing. They get discounted rates and their prescriptions delivered to their home already.
Employee eligibility
Q (4/3): Is an employer allowed to subsidize premiums for employees enrolled in COBRA continuation coverage?
A: Yes, employers are permitted to subsidize COBRA. However, if the subsidy ends before the maximum COBRA coverage period, that may not be considered a qualifying event for the employee to enroll in Individual Marketplace coverage outside of the open enrollment period. To avoid a lapse in coverage, the employee would be required to pay the entire cost of the COBRA premium until they are able to enroll in Individual coverage.
Q (4/2): If an employee is laid off while still in their new hire waiting period, and not yet enrolled on the health plan, can that employee be offered COBRA?
A: No, COBRA continuation coverage is available only to "qualified beneficiaries" and only after a qualifying event has occurred. COBRA defines "qualified beneficiaries" as an employee who was covered by a group health plan on the day before a qualifying event occurred. If the employee was not covered on the health plan when the lay-off occurred, they are not eligible for COBRA.
Q (3/31): Q: If an employee is laid off from work and collects unemployment benefits, are they still eligible to receive employer-sponsored health coverage?
A: Collecting unemployment does not affect the employer's ability to offer health benefits during this time.
Q (3/25): If an employee is still in their new hire waiting period, and is laid off, will they be eligible to begin coverage once the waiting period is met?
Yes, if an employee is laid off before they meet the group's new hire waiting period, they will be eligible to begin coverage as of their planned effective date, provided the employer still considers laid off employees as "active" for benefits purposes.
Q (3/25): If an employer needs to terminate coverage for a large number of employees, can they do so via a spreadsheet rather than complete forms for each employee?
Employer groups may continue to utilize our standard enrollment spreadsheet for making coverage changes during this time.
Q (3/25): Will Priority Health be holding a special enrollment period during this time?
Priority Health is not opening up our commercial book of business for a special open enrollment at this time. Employers may still add employees or change coverage at qualifying events, including loss of other coverage. If you are unsure what constitutes a qualifying event, or if you have extenuating circumstances for an employee, please reach out to your Priority Health client services team for assistance.
Q (3/25): Many employees with children are now working from home due to school closures and state mandates. If an employee needs to change their Dependent Care Flexible Spending Account election, what is the process they should follow?
Employees that are no longer paying for child care may, but are not required to, change their election. The change in election must be consistent with the reason, e.g. if a child is no longer in care, the election could be reduced or eliminated. Enrollment forms for flexible spending plans can be found on the Priority Health agent and employer centers. Members with flexible spending or health savings accounts administer by our partner, HealthEquity, can access additional information on their website.
Q (3/23): Is Priority Health considering extending the dependent stop age of 26?
A: Priority Health will not be changing our current policies regarding dependents aging off a group plan. For those dependents in need of ongoing coverage, they can purchase an individual plan or see if they qualify for a Healthy Michigan plan.
Q (3/23): Will Priority Health waive the new hire waiting period for employees returning from layoffs?
A: While Priority Health encourages, and is providing the flexibility to our employers, to continue coverage for employees during any layoffs resulting from temporary business closures due to COVID-19, we understand that will not be possible for all employers. If a group must terminate coverage during this time period, Priority Health will waive any applicable waiting periods if the employee returns to work within 6 months. An employer can decide if they want to enact a shorter waiting period, but must apply that to all employees.
Q (3/23): If an employee loses coverage due to layoff, and then returns to work with a lapse in coverage but during same plan year, do accumulators reset?
A: No, accumulators will remain with the member under the same plan, for the remainder of the plan year. Accumulators don't automatically transfer between HSA and non-HSA plan types. It would need to be done manually.
Q: Is there a requirement to alter any plan documents as a result of the COVID-19 emergency mandates?
A: Due to the state of emergency we are not requiring any changes to your plan documents at this time. We will continue evaluate this as the situation continues to evolve.
Q: What if an employer needs to add or remove employees and/or dependents due to qualifying life events or make plan changes, but is not able to do so within the 30-day timeframe due to COVID-19 circumstances?
A: Priority Health will extend the 30-day timeframe through Apr. 30, 2020 for fully funded employers.
Premium and administrative information
Q (4/2): What information is Priority Health able to provide employer groups that are applying for Paycheck Protection Program loans, made available through the CARES Act?
A: Employers may need to provide information on health care premiums for up to 24 months. Some individual lenders may request copies of invoices be provided. Employer groups, or their designated agent, may access historical invoices through their Priority Health employer center. If the employer or agent do not have access to the portal, a report will be provided upon request supplying this information, or copies of invoices if required by the lender. Please email your group name, group number, and the time period for reporting to PH-PremiumManagement@priorityhealth.com. Allow 1-2 business days for a billing receipt summary report, and 2-3 business days for copies of invoices.
Q (4/2): Does Priority Health anticipate any delays in providing regular reporting to employers, or any changes to what employers will receive during this time?
A: We do not anticipate any delays related to the COVID-19 crisis at this time. Our goal is to provide reporting to our customers on the 15th of each month. The type of reporting provided varies between small group and large group. The reporting is determined by the number of enrolled contracts at the start of the group's plan year. If the group drops below the large group threshold during the course of the year, they will continue to receive their same reporting. If they are still below the threshold upon their next renewal, they will receive different reporting at that time. We do not have reporting specific to COVID-19 available at this time. We will continue to evaluate the data and provide updates.
Q (3/31): Does Priority Health's premium payment grace period also apply to self-funded fixed fees and claims funding?
A: For fixed fees:
Priority Health will apply our extended grace period to fixed fees (e.g. administrative fees and stop-loss) for our self-funded employer groups. Self-funded groups with a stop-loss carrier other than Priority Health should reach out to the carrier to discuss how any delays in stop-loss premium may affect their coverage.
A: For claims funding:
Claims funding occurs on a weekly basis, and must be funded in order for provider payments to be made. Groups using EFT as a payment method should work with their Priority Health account manager to discuss delayed or partially funded payment options and timing.

Q (3/31): There has been some interpretation of the CARES Act suggesting that employers will need to update their plan documents reflecting coverage for COVID-19 testing and treatment, and provide a Summary of Material Modification (SMM) to their employees. Will Priority Health be updating SBCs to reflect this coverage?
A: Priority Health's legal counsel has determined that modifications to our plan documents are not required at this time. Our SBCs do not call out specific diagnostic test coverage (e.g. influenza testing). Our plan documents (Certificates of Coverage, Insurance Policies, and Summary Plan Descriptions) each have sections addressing the fact that our plans all comply with applicable state and federal law, and in any instance where the plan document does not comply with applicable law or regulation, it will be deemed amended to the extent necessary to comply with such law.

Q (3/24): Could an employer group shift up to 100% of the premium liability to their employees (temporarily) in order to reduce operating costs and continue offering benefits?
A: While an employer group could choose to shift premium costs in part or in whole to their employees, any group considering this approach should absolutely consult with their benefits attorney. As a reminder, terminating employee coverage due to failure to pay premium is not a COBRA qualifying event, nor does it provide the employee with an SEP for Individual coverage.
Q (3/24): Will Priority Health allow groups to request mid-year benefit changes in order to offer a leaner plan and reduce benefits costs?
A: Typically, Priority Health does not allow mid-year plan changes. Groups considering a mid-year change should consult with their benefits attorney regarding ACA and ERISA considerations. If you are concerned about your ability to continue offering your current benefit plan to your employees, please work with your Priority Health account manager to discuss available payment options and ways Priority Health can work with your business.
Q (3/24): If a large employer temporarily reduces their workforce related to COVID-19, how will that affect their applicable large employer (ALE) status?
A: An employer's status as an applicable large employer (ALE) is based on the sum of its full-time employees and its full-time equivalent employees for the prior calendar year, regardless of plan year.
For example, an employer has 55 employees today. Due to temporary closures or COVID-19 related workforce reductions, their workforce drops to 25 for the months of March and April. Next year, they will calculate their workforce as follows:
55 employees for 10 months of the year = 550
20 employees for March and April = 40
(550 + 40) / 12 = 49 employees
Q (3/23): Will Priority Health adjust premium rates mid-year for groups that experience a significant fluctuation in enrollment?
A: No, Priority Health will not be making mid-year rating adjustments due to changes in enrollment at this time.
Q (3/23): Should employers experiencing changes in membership adjust their premium payments accordingly?
A: No, enrollment changes will continue to be reflected in the next billing cycle.
Q: What is the standard employer premium payment grace period? Has that changed?
A: Our current grace period is 30 days from the due date. Keep in mind, your payment is for the following month, so if you are current with your payment, you'll be paid through March.
Q: Is Priority Health extending grace periods for employers, as they seek funding and reimbursement from government programs announced?
A: We'll work closely with our agent and employer partners to determine the best course of action for their situation.
Q: What are the timelines for payments due, pending of claims, termination of contracts, etc.?
A: We are updating our temporary premium payment policy and procedures and will have them communicated by the end of the week. Priority Health is committed to supporting our groups and members during this time.
Q: Will there be any delays in Priority Health operations due to COVID-19 (claims paid, enrollment process, customer service staffing, invoices paid, etc)?
A: We don't anticipate any delays or disruption in our day to day operations, as we have business continuity plans in place, including remote and virtual work processes. Many operations are done online already. In addition, we have open enrollment materials available digitally.
Employee coverage options
Q: If employers need to temporarily lay off or reduce hours below full-time status for employees due to COVID-19 circumstances, can they continue to provide health benefits during this period?
A: Yes, employers can continue to provide benefits and should keep the employees status as "active", should employers choose to do so. This "active" status is effective Mar. 12, 2020 through Apr. 30, 2020. Reminder: an employer must be consistent with what options they offer to all similarly situated employees.
Q: If employers can no longer provide health coverage to their employees, what options do employees have?
A: There are multiple options for employees based on their specific circumstances, including:
COBRA – employees will need to work with their HR department to verify eligibility
Individual insurance – employees can call Priority Health enrollment specialists toll-free at 833.489.5443 or visit mypriority.com. For COVID-19 related loss of coverage, there will be no documentation needed if enrolling directly through Priority Health. Documentation is still required if enrolling through the Healthcare Marketplace.
Healthy Michigan plan - employees can visit mibridges.michigan.gov or the local Department of Human Services office, who can help verify eligibility. They can call Michigan Enrolls at 888.367.6557 (TTY users call 711) and ask to get their coverage through Priority Health. If they don't select a carrier, one will be auto-assigned.
For more information on coverage options for those losing health coverage visit our dedicated site
Q: If an employer terminates an employee's health plan due to the executive order, how soon can they purchase an individual plan through the Healthcare marketplace?
A: This would be treated as an Special Enrollment (SEP) for loss of coverage. We're waiving the requirement for documentation due to loss of health coverage because of the COVID-19 crisis if individuals enroll directly through Priority Health. Documentation is still required if they choose to enroll through the Healthcare Marketplace.
Individuals enrolling thorough Healthcare.gov must choose the first of the month as their effective date (dates within their 60 day window from the date they loss coverage). For example if they lose coverage on 3/23, their effective date options would be 4/1 or 5/1.
Individuals enrolling directly in a health plan through Priority Health can select that next day for coverage to ensure they do not have a coverage gap or the first of the following month. For example, if they lose coverage on 3/23, their effective date options are 3/24 or 4/1.
For more information on SEP enrollments and other coverage options visit our info page
Q: If an employee loses coverage should they be advised to use COBRA or enroll in an Individual health plan through the Healthcare Marketplace?
A: Every individual's needs will be different however, for many people the Marketplace will be less expensive than COBRA, especially if they are unemployed. To enroll on the Marketplace, enrollees just need to approximate their 2020 income on their application. If an employee takes COBRA for one month and it exhausts they would then be eligible for an SEP because the enrollee would be deemed 'newly eligible for assistance'. The effective dates are applied as outlined above.
In addition, if the member is currently enrolled in COBRA and cannot afford to continue that coverage they can use their new eligibility to enroll on the Marketplace or directly through Priority Health.
COVID-19 Employer Decision Guide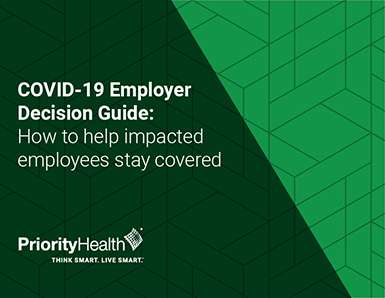 A guide to help employers identify potential solutions to help their employees maintain health coverage resulting from the impact of COVID-19.